The Valley Chronicle - Bulldog boys trampled by Cougarsng
Bulldog boys trampled by Cougars
---
Boys basketball: Hemet lost to Beaumont at home 49-34
[caption id="attachment_15799" align="aligncenter" width="576"]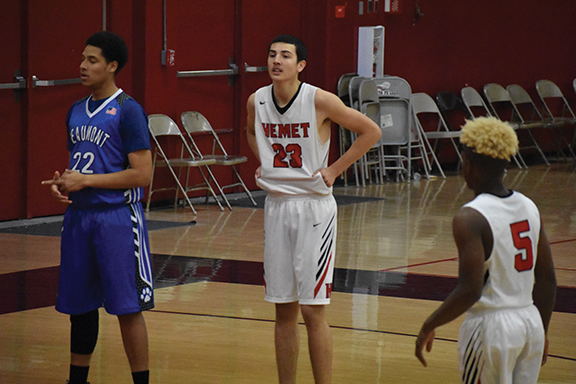 Photo by Corey Evan
Bulldogs Adrian Ludwig and Max Moore contend with the Beaumont Cougars on Jan. 4.
[/caption]
■ By Corey Evan / Reporter
Friday nights mean fun for entertainment-seekers. But for those doing the entertaining, they also mean pressure - and lots of it. The Hemet High boys basketball team felt that pressure on Friday, Jan. 4 as they played host to the Beaumont Cougars. Right away, it was clear that the Bulldogs were not fully prepared to face kitty claws, as Beaumont would score first. In the first quarter of gameplay, they only put up four points against the Cougars' nine. Hemet would attempt to push back against Beaumont in the second quarter, managing 10 points in the attempt. But the Cougars anticipated this, and managed to distance themselves with 20 points going into the second half. The Cougars continued their game of keep away into the third quarter, but on the flip side of that coin the Bulldogs at least prevented this becoming a blowout. The Cougars managed just nine points this quarter, but the Bulldogs fared this one even worse with just five. With a final score of 49-34, it was a win for the boys in blue. Coach Jared Wells says his boys simply weren't on the ball enough tonight to be competitive: "They have to play a lot harder for us to compete in league; They didn't play hard on defense together as a team. When we do play hard together, we're very tough to beat." There's only one way for Hemet to go in league and that's up: Hemet are 0-2 in Mountain Pass League and 10-7 overall. The Friday night win gives Beaumont new totals of 2-0 and 11-8 as of press time.
---