The Valley Chronicle - Lady Bulldogs shoo away the Hawksng
Lady Bulldogs shoo away the Hawks
---
Girls soccer: Hemet surprised Citrus Hill in second half, winning 3-nil
[caption id="attachment_15796" align="aligncenter" width="576"]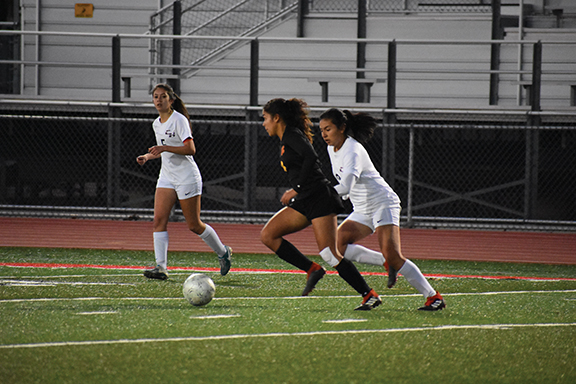 Photo by Corey Evan
Once Hemet got going, Citrus Hill couldn't keep up!
[/caption]
■ By Corey Evan / Reporter
When something surprising happens, one might say it came out of left field. But when it happens on the soccer field, would one say it came out of left pitch? Regardless, it happened at Hemet High School on Wednesday, Jan. 2 as their soccer girls welcomed the visiting Citrus Hill Hawks. The first half of gameplay passed relatively uneventfully, with neither team scoring or receiving any significant penalty. But almost 10 minutes into the second half, Shayden Skinner broke the dry spell and scored for Hemet, with help from teammate Shelbi Read. Five minutes later, Reese Castanon would double the Bulldogs' score off of an assist by Skinner. Then at the 17:15 mark, Magali Olide kicked the ball to Payden Searl who kicked it home for Hemet. The Hawks, meanwhile, could not scrape together any goals at all in this half, thus conceding victory to Hemet 3-nil. New Coach Steve Strutz, who previously served for eight years as Junior Varsity coach for Hemet, says tonight's win wasn't necessarily a given: "We were a little rusty. We had three days off; It's just the touching of the ball [that made the difference]." Strutz believes the Hawks could have beaten Hemet the way they played today: "They were positioned well, and the ran hard. They played very hard." But all in all, Strutz believes his girls play well together, which is most important because his goal for the Bulldogs is to "Win League." And the Lady Bulldogs are already on their way: They are 2-nil in Mountain Pass League play and 12-1-4 on the season to date. The Hawks have quite a climb ahead of them, as they are 0-2 and 3-9-3 as of press time.
---