The Valley Chronicle - Mustangs' batters show promiseng
Mustangs' batters show promise
---
Baseball: West Valley hosted its Mustang Lead-Off tournament during the weekend of Feb. 21-24
[caption id="attachment_16561" align="aligncenter" width="576"]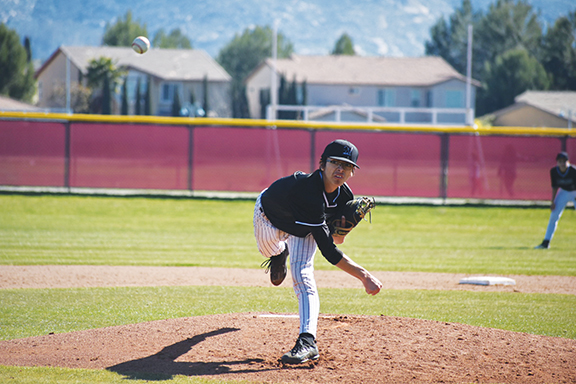 Corey Evan
Pitcher Isaac Sandoval throws a wild one at the Mustang Lead-Off Tournament on Saturday.
[/caption]
■ By Corey Evan / Reporter
With the recent rains starting to dry up, it's finally time to play ball! The West Valley Mustangs could hardly wait to play on their home base during the weekend of Feb. 21-24. A total of nine teams went up against the 'Mustangs Lead off Baseball tournament.' Those teams were: Cathedral City, Granite Hills (Apple Valley), La Sierra (Riverside), Norte Vista (Riverside), Orange Vista (Perris), AB Miller (Fontana), Santa Rosa Academy (Menifee), Temecula Prep and Calvary Murrieta. Mustang Assistant Coach Brian Surritt explains why the Mustangs play this tournament come rain or shine: "It's a good test to see how the team transitions from the fall scrimmages into league play next week. It gives us an idea of where we need to improve and what we need to do different to have success in league." Speaking of success, West Valley had quite a bit of it: The Mustangs shut out Temecula Prep on Mon. Feb. 18, 15-zip. Menifee's Santa Rosa Academy struggled to get two runs against the Mustangs' 11 on Tue. Feb 19. When Calvary Murrieta came to play on Sat. Feb 23, the ball tipped in the Mustangs' favor 5-1. Due to the rains, the Mustangs will play their Championship game against La Sierra on Mar. 18. Third place was decided between Norte Vista and AB Miller yesterday, with results available on maxpreps.com as of press time. Surritt wishes to thank Eric Witte for keeping the Mustangs' diamond shining bright, Athletic Director Kathleen Alvarez for her hard work chording the event, Principal Shannyn Cajon for her support, and all the teams that participated in this year's tournament for their participation The Mustangs are now 3-nil for the season as of press time.
---