The Valley Chronicle - MVP Spotlight: Clara Leary and Antoine Sullivan
MVP Spotlight: Clara Leary and Antoine Sullivan
---
Tahquitz: She wants to be a high school counselor, he wants to put the titans on the map
[caption id="attachment_16569" align="aligncenter" width="576"]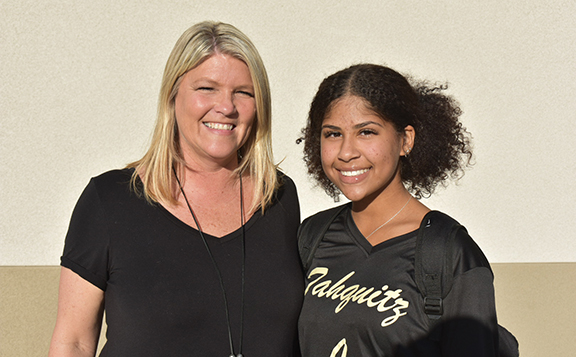 Photos by Corey Evan
Clara thanks Coach Cordero for being there for her and the Lady Titans.
[/caption]
■ By Corey Evan / Reporter
It's not easy being green in the San Jacinto Valley, what with all the red, maroon and orange competition out here. But as the coaches at Tahquitz High School have observed, grade 11 athletes Clara Leary and Antoine Sullivan do it well. That's why they are the Titan nominees for our winter MVP spotlight.
Clara Leary
Leary, a team captain who helped kick the Lady Titans soccer team into CIF for the seventh year running and a 12-6-3 season for 2018-19, was nominated to our MVP Spotlight by head coach April Cordero. "Clara is a determined player and she tries, even though sometimes she doesn't have 100 percent of her effort into things. But she does produce a lot on the field. She's extremely athletic, she's at everything, she's a leader with the kids on the field." Leary says her grandfather encouraged her to start kicking the ball around. "I started playing soccer when I was nine, 'cause my grandpa wanted me to play and (he) coached me. He taught me everything I know! So I started kinda late." Better late than never! Leary says playing soccer and laughing with friends, and her 30-yard free kick this season rank high on her list of favorite moments on the pitch. Humility and getting along with others are the big life lessons Leary has taken from playing for Tahquitz. "And not to get frustrated… if someone messes up, not to get frustrated with them. Just, like, help them." While 2020 seems a way's off for some, Leary already plans to study psychology. Her career objective: become a school counselor. Whether Leary will continue playing sports in college remains to be seen. Leary expresses her gratitude to Cordero for her nomination and for being there for the Titans when they needed her, as well as her grandpa for coming to every game. [caption id="attachment_16570" align="alignleft" width="300"]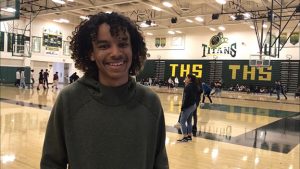 Antoine Sullivan on the sidelines at Tahquitz.
[/caption]
Antoine Sullivan
Antoine, a team captain who kept the Titans' morale up during a tough 8-19 season in 2018-19, was nominated by his head coach Alfonzo Walton. "Antoine is the only registered Varsity player returning from the previous season and ideally he would be the glue that made everything stick." Antoine's dad Clifton Sullivan knows that his role in Antoine's life has helped fuel his success here: "I always want them to understand if you have a skill set take advantage of it. I have always made sure they had everything they needed to be the best they can be and whatever sport they decided to play, I even put them in travel ball situations at younger age so they could get better at the sport they were playing in at the time. I told them it beats staying in the house playing computer games, or PlayStations, Xbox type games. As for his academics I stress to him if he wants to go to the next level on any sport he gots to have have the grades first, on a daily and weekly basis I let him know. I know exactly what he's doing in school when it comes to his grades, that keeps him honest because he knows I'm looking." Antoine says his time on the Valley-wide teams, as well as watching his brothers play, led to him playing for the Titans. "Some of my favorite moments (were) when I dropped 40 here against West valley, that's a record here. Also when we played SJ recently… we were able to fight adversity and we came back and won the game." With a year and change to spare, Sullivan is looking at playing sports for college as well as putting Tahquitz on the map. And finally, Walton has a warning for Antione for next year's competition: "Antoine is poised to have a breakout senior year at Tahquitz High School in multiple sports, so my advice would be a question and a statement. The question; What is your deepest fear? and the statement; The road to success in anything, is the road seldom traveled by the masses and leadership reflects attitude." Do you have a student athlete to nominate for our MVP Spotlight? If so, Corey Evan can be reached at 760-270-5625 or by email at cevan@thevalleychronicle.com.
---