The Valley Chronicle - MVP Spotlight: Mallory Hoch and Valentin Alonso
MVP Spotlight: Mallory Hoch and Valentin Alonso
---
West Valley: She wants to become an EMT, he wants to help stop cyber-criminals
[caption id="attachment_16565" align="aligncenter" width="576"]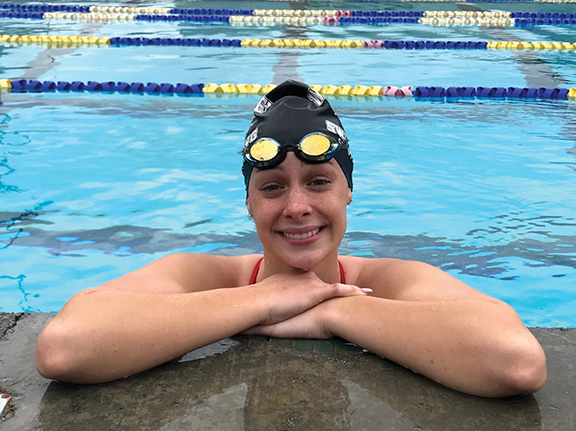 Photos by Corey Evan
Senior Mallory Hoch, in her element.
[/caption]
■ By Corey Evan / Reporter
If there's anyone that proves participating in school sports helps prepare you for the rest of your life, it's these bright young Mustangs. West Valley High School took a close look at each of their winter 2018-2019 athletes and selected seniors Mallory Hoch and Valentin Alonso for our MVP Spotlight.
Mallory Hoch
Hoch, who captained the Mustang Water Polo team in their 11-9 season for 2019, was nominated to our MVP Spotlight by Coach Rob Avila: "Mallory's definitely one of the hardest workers we've had on the team. She's pretty much our leading player in the field offensively, defensively and just a great player all around." Hoch says she hopped into the pool as a means of continuing her family's history in the water. "My dad was a swimmer, my dad's dad, my mom's dad, my brother… My whole family's been swimmers… I've always just had a love for it, I guess. My brother being in it, he got attention so I wanted the attention!" Despite not advancing to postseason, Hoch is just happy to be part of her Mustang family. "We have a great team family, I love every single of my girls. We all worked super hard together, we've won a ton of games. We've had our losses here and there, but we still worked together to do everything we had to do in the water." Once Hoch turns her tassel this May, she says she plans to start studying to be an Paramedic. She's considering Wittenberg University in Ohio as one of her options. Hoch thanked all of her waterlogged family members for inspiring her to log so many hours in the water herself, as well as Avila. Avila's post-graduation advice to Hoch is to keep her work ethic strong. "Hopefully she continues to play (water polo), but that's up to her." [caption id="attachment_16564" align="alignleft" width="300"]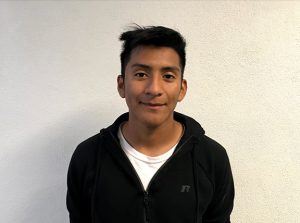 Senior Valentin Alonso loves kicking the soccer ball around. But when he comes to kick down cyber-criminals' doors, don't be home.
[/caption]
Valentin Alonso
Alonso, who helped his boys soccer team endure a grueling 6-16-3 season, was nominated by Mustang Boys Soccer coach/History teacher Ahmed El-Sayad a: "I picked Valentin because he represents all the characteristics I'm looking for in a valuable player; That is somebody who is emotionally a leader to the team, as well as somebody who's academically a leader, somebody who's physically a leader on the field and off the field. [He] was the first name that came to mind." Valentin says he started kicking the soccer ball around when he was little, and hasn't stopped since. "I like the sport and I've been passionate about it for the past 10 years. Hopefully I get to play for college, on a little scholarship or something like that…" Two of the schools on Alonso's radar are Cal Baptist in Riverside and Cal Poly Pomona, as he pursues a major in computer science. "[I want to] go into cybersecurity, and work for a big company." El-Sayad says he can see Alonso hitting cybercrime hard and fast in the future. "It would be a good career for him, but I also see him getting the job done. He has the work ethic that's necessary to study for all those computer science tests and pass them." Alonso thanked his coaches for helping him since freshman year, and his parents for their lifelong support. Do you have a student athlete to nominate for our MVP Spotlight? If so, Corey Evan can be reached at 760-270-5625 or by email at cevan@thevalleychronicle.com.
---