The Valley Chronicle - Bulldogs toppled by Terriersng
Bulldogs toppled by Terriers
---
Boys volleyball: Hemet were shut out at home by Redlands, 3-0
[caption id="attachment_16733" align="aligncenter" width="576"]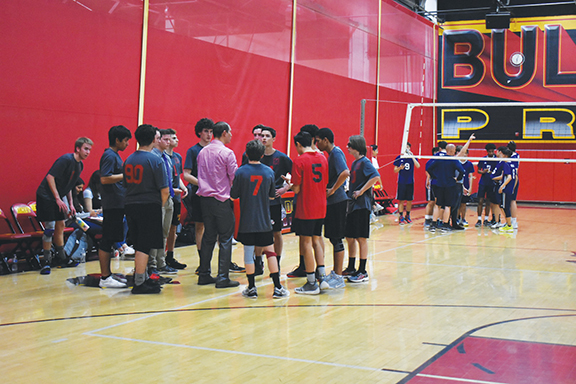 Photos by Corey Evan
Coach Joe Schnake, in pink, tries to keep his Bulldogs' heads in the game.
[/caption]
■ By Corey Evan / Reporter
We live in a blue state, no doubt you are aware. Being equally blue themselves, the Redlands High School volleyball boys would see a lot of red as they visited the Ted Smith Sr. Gym at Hemet High School on Thurs. Feb. 28 to take on the Bulldogs. The Bulldogs tipped the ball over the net first in set one, before the Terriers awoke and challenged them. Throughout this primary, the Terriers maintained a comfortable lead over the Bulldogs. In the end, electoral vote number one in this race went to Redlands 25-17. The Terriers continued their winning ways in set two of this race, matching their performance from set one. The Bulldogs took two time-outs this set, in response. But despite Coach Joe Schnake trying hard to manage his Bulldogs' campaign, Redlands fought them hard. The Bulldogs tried to stage their comeback, nearly cutting their deficit in half. But this second electoral vote would go to Redlands, again 25-17. [caption id="attachment_16732" align="alignleft" width="300"]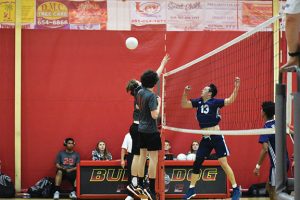 The Terriers proved to be very tough opponents.
[/caption] The Bulldogs would try their comeback campaign again in the third set, this time giving Redlands a run for their money. But then the Terriers initiated defensive mode and shut the Bulldogs down. Doing more of the same, Redlands took the third electoral vote of the match 25-16 to become the projected winners. Schnake says his Bulldogs' schedule this week, combined with lack of time to practice together, did nothing to help today's campaign. "The fault with our schedule is that I (didn't) get to practice with my guys until (Mar. 6). The lesson taken is… if we focus on our mistakes, we'll just keep making those same mistakes." The past week saw Hemet High face four opponents in seven days, winning three. That said, Schnake is impressed with Redlands, despite their relative inexperience for the season. "They were really good last year too! I do remember that they had a few juniors on their (team) that really put it to us last year. It was really expected for them to be stronger than last year." Today's setback sees the Bulldogs fall to 8-3, the Terriers improve to 7-3.
---