The Valley Chronicle - Wolves get head-butted by Ramsng
Wolves get head-butted by Rams
---
CIF Boys Basketball: SJVA loses to the Cate School, 61-52
[caption id="attachment_16736" align="aligncenter" width="576"]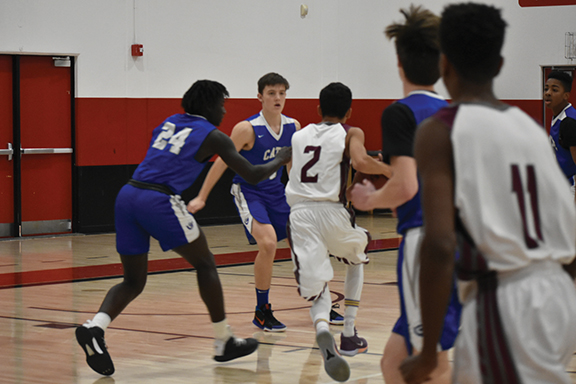 Photo by Corey Evan
Jeremiah Juarez tries to push past the Cate Rams.
[/caption]
■ By Corey Evan / Reporter
Anyone who believes alternative schools don't have good athletics programs needs to read this. The Wolfpack at San Jacinto Valley Academy have proven themselves to be CIF-caliber for 2018-19, going 5-6 in the South Valley League and 9-10 overall. This is a credible performance for a school without their own indoor gymnasium. But would their performance hold against the Rams from the Cate School, a world-famous boarding and day school in Carpinteria? With it being round two of CIF Division 5 playoffs, there was everything to play for tonight. With the Eagles out of town this week, the game took over MSJC's nest for the evening of Tues. Feb 12. Quarter one started out rather rocky for the Wolves, as the Rams scored first. But the Wolfpack hung on and kept the pressure on the Rams. After one quarter, the Rams had a three-point lead 14-11. In quarter two, the only thing that could slow down these teams' momentum was a toddler wandering onto the court. Once his mother regained control of him, the two teams continued undaunted. Going into halftime, Cate now had a lead of seven over SJVA, 36-29. But the Wolves didn't give up. The Wolfpack put the pressure on Cate, trimming two points off their deficit in the third quarter. Then with six minutes left in quarter four, they drew level with the rams 46-all. Then at 5:12 (SJVA number 11) sunk the layup that gave SJVA the lead for the first time this evening. But then the Rams hustled the ball away and recovered their lead. The Rams would knock the Wolfpack out of the playoffs with a total of 61-52. Head Coach Cruz Estanislao believes his team was excellent today, but still says he tips his hat to Cate. And while the Wolfpack doesn't currently have a gym to call home, Estanislao says that's going to change really soon. Until then, he and his wolfpack have had to practice outdoors at Valley-Wide, but thanks to the recent rains have had to cancel practices. With this loss, SJVA finishes this season with a run of 9-11 overall. Cate would advance in the playoffs, only to lose to Carpinteria High 51-46. Carpinteria in turn is now headed to the championships as of press time.
---