The Valley Chronicle - Athletic Excellence Awardsng
Athletic Excellence Awards
---
Hats Off to High Hopes celebration hosted by foundation
[caption id="attachment_17040" align="aligncenter" width="576"]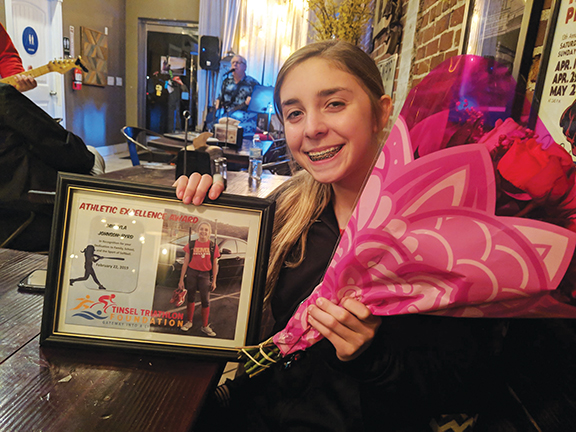 Photos by Tinsel Triathlon Foundation
Micayla Johnson-Byrd receives roses as part of her celebration for receiving an Athletic Excellence award for her outstanding ability in the game of softball, her academics and her ability to look to her future.
[/caption]
■ By Connie Hall / Contributed
The Tinsel Triathlon Foundation honored Excellence in Athletics at the Hats Off to High Hopes celebration Friday, Feb. 22, at the Downtown Deli and Coffee Company in the City of Hemet. The three individuals selected for this esteemed recognition were chosen for their sports acumen, academic performance and their focus on their future. Hats are off to the following: Micayla Johnson-Byrd, a Hemet High School sophomore, is a team member of the Hemet High varsity softball team. According to her father, Gary Byrd, Micayla has long held a love for baseball since the age of five. In fact, she won first place at Scotts Major League Baseball Pitch, "Hit & Run" at the Angel Stadium in Anaheim last June. She's a young lady focused on family, school and her sport. [caption id="attachment_17039" align="alignleft" width="432"]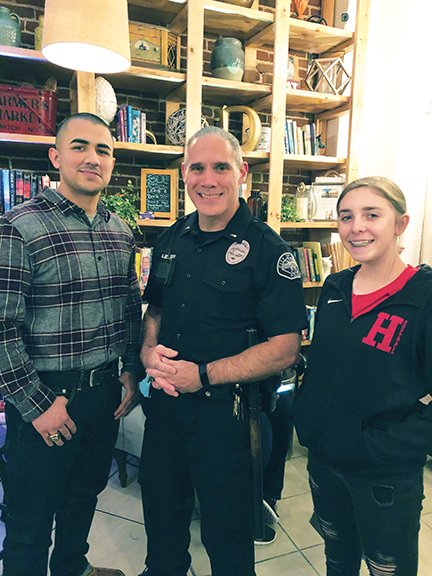 Jesse Zuniga, Eric Dickson, Lieutenant of Hemet Police Department, Micayla Johnson-Byrd at Hats Off to High Hopes celebration Feb. 22. Jesse, Micayla and Brett Vigil, who was unable to attend, were recognized by each receiving an Athletic Excellence award.
[/caption] Brett Virgil, a student and quarterback of the football team at Mt. San Jacinto College, was selected due to his focus on his education and his ability to make thought-out critical decisions regarding his future. Head football coach, Casey Mazzotta, asserted that Virgil, "is an outstanding student-athlete and has been since he was in high school. What sets him apart is that he is a very good leader who has the ability to help those around him elevate their performance as well. He is a great person who is interested in becoming the very best he can be, and I love being around young men with that type of mindset." Virgil's plans include pursuing a psychology degree. He anticipates accepting one of the many full-ride football scholarships that have been offered to him to attend a university where he will continue his education and love for the sport of football. Jesse Zuniga, an alumnus out of the San Jacinto Valley's Cops 4 Kids & Communities, began boxing at their non-profit based facility at the age of 15 when he was a sophomore at San Jacinto High School. Today, while maintaining his relationship with Cops 4 Kids, Jesse is attending Mt. San Jacinto College with a focus on criminal justice, all while negotiating the interview process to attend the Los Angeles Police Department Police Academy. Jeff Penn, the center's executive director and former San Jacinto police officer, stated that the core mission of his agency works diligently to build positive mentoring relationships between teens and public safety professionals and members of the community through educational, athletic, and leadership development programs. The Tinsel Triathlon Foundation was founded to further a passion of uplifting folks from all walks of life through competitive endurance and organized sports. The Tinsel Triathlon Foundation provides individuals an opportunity to exhaust their human potential by falling in love with physical activity with no barriers. For more information about the foundation, visit online at www.tinseltriathlonfoundation.com.
---