The Valley Chronicle - Bulldog Dodgeball Tournament 2019ng
Bulldog Dodgeball Tournament 2019
---
Hemet High students and staff gathered to lob the P.E. staples at one another
[caption id="attachment_17036" align="aligncenter" width="576"]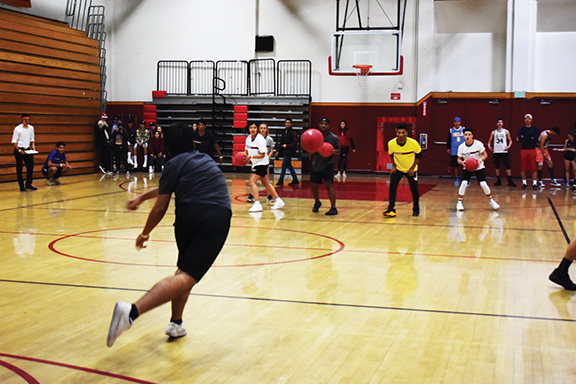 Photo by Corey Evan
These teams grabbed the evening by the dodgeball and threw down a challenge on Mar. 8.
[/caption]
■ By Corey Evan / Reporter
What was your favorite activity in Physical Education class? If you say "Dodgeball," you're not the only one. On Friday, Mar. 8, Hemet High School students and staff gathered in the Ted Smith Sr. Gymnasium for their 10th Annual Bulldog Dodgeball Tournament. The bleachers in the gym were full to capacity as students and parents watched their fellow Bulldogs grab the evening by the dodgeballs and let out their pent up energy. Coordinating the tournament this evening was Al Fernandes and his ASB students: "There were 15 teams that had a mix of all students, a mix of students and staff along with a whole team of staff members," according to Fernandes. While the HHS Grad Night committee had to forego their annual potato bake this year, Fernandes says patrons still enjoyed being there. "The turn out by students, staff, and community has been amazing every year the event is held." This year's winner was an all-student team, dressed in red according to Fernandes. No further information about the winners was made available as of press time. For those involved, it was definitely a great way to get to know what each other was really like outside the classroom, if not at least get to hit each other and not get in trouble. "Getting students and staff to participate along with all coming together for a friendly competition," is what Fernandes says this is all about. Fernandes thanked the following for making this year's tournament a hit: Student chairs Abby Carl and Haleigh Wicks, and Multimedia teacher John Hill. To keep up with all Bulldog activities, please visit www.hemethigh.com.
---