The Valley Chronicle - Titans washout Tigersng
Titans washout Tigers
---
Baseball: Tahquitz easily beat San Jacinto, 24-0
[caption id="attachment_17032" align="aligncenter" width="576"]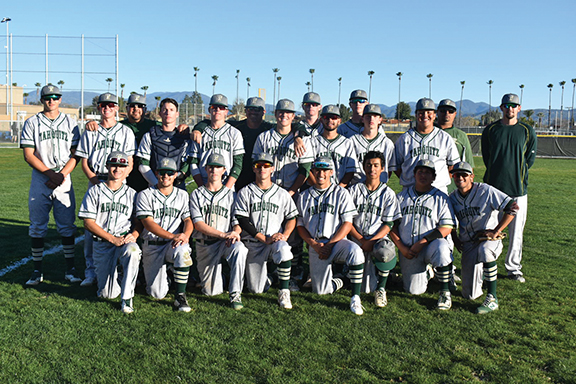 Photos by Corey Evan
Despite not being able to use their own field, the Titans stand proud on San Jacinto's field Wed. Mar. 13.
[/caption]
■ By Corey Evan / Reporter
For many teams, home field advantage can be a make-or-break element of their game. For the Tahquitz High School baseball team, not so much it would seem. Since being rained off their field on Wednesday, Mar. 13, their home match against the San Jacinto Tigers became an away game at San Jacinto. The Titans lived up to their winning history. From the top of the first inning, it was clear the Titans weren't beating around the bush. Working together, Zach Schwartz, Kyle Weatherby, Caleb Shepard, Travis Booth and Ethan Strawbridge brought in the first five runs of the afternoon. [caption id="attachment_17031" align="alignleft" width="300"]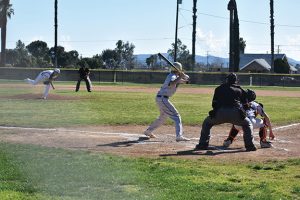 The Titans showed San Jacinto they had the 'eye of the tiger' last Wednesday.
[/caption] The Titans' momentum continued into the second inning with Schwartz knocking the ball out of the park, followed by runs from Garrett Firth, Weatherby, Shepard, and Strawbridge. By the time this inning was over, they had added six runs to the board. The Tigers managed to stem the Titans temporarily in the third inning. But then in the fourth, the Titans loaded up the bases. Strawbridge, Garrett Firth, Weatherby, Mike Jones and Cody Firth ended up making it all the way around the diamond as a result. Inning six saw a three-run homer, as Shepard made contact and brought Garrett and Weatherby home with him. Anthony De La Rosa and Sebastian Hermosillo followed suit with runs of their own. To top it off, Booth added one more homer with De La Rosa and Hermosillo scoring as well. In all, the Titans took in 24 runs while the Tigers took none. For Coach Ron Savage, this game proved to be a silver lining for his team's weather-related struggles: "Our field was underwater three consecutive practices in a row, since before Presidents' Day break. Between the area flooding, then working on it to get it back in shape… it's been a struggle. So to come on the road and to be able to put 24 runs up the way we did, we pitched well, we played defense, we did all aspects of the game really well. I'm pretty proud." San Jacinto coach Rick Zepek declined to comment on this game. As of press time, the Titans have a total of 7-3-1 for the season and are 4-0-1 in Mountain Pass League play. The Tigers have room for improvement, going 6-5 and 2-3 so far.
---