The Valley Chronicle - MVP Spotlight: Jocelynn Schleider and Dawson Po
MVP Spotlight: Jocelynn Schleider and Dawson Powers
---
Hemet High: She makes no 'bones' about water polo, he wants to learn business management
[caption id="attachment_17314" align="aligncenter" width="576"]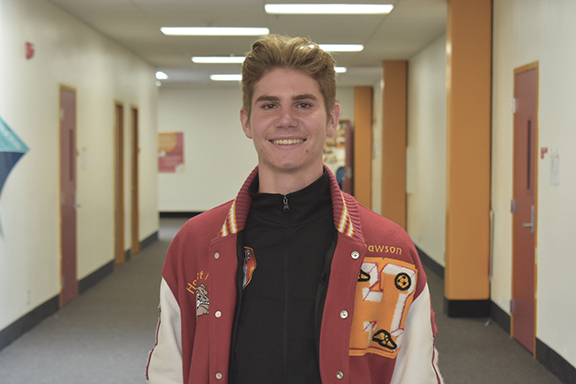 Photos by Corey Evan
Dawson Powers.
[/caption]
■ By Corey Evan / Reporter
Red and gold may be just two more colors to many students in our valley. But for Hemet High seniors Jocelynn Schleider and Dawson Powers, those colors stand for their hard work, determination and sweat… mostly the latter, in the case of our MVP Spotlight. [caption id="attachment_17315" align="alignleft" width="384"]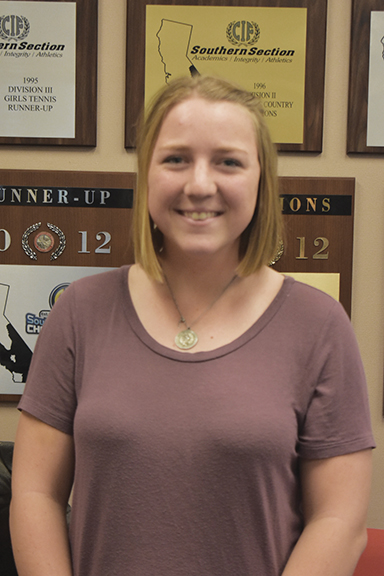 Jocelynn Schleider .[/caption]
Jocelynn Schleider
Schleider, a team captain for the Lady Bulldogs water polo team, was nominated to our MVP spoiltght by assistant coach Lauren Valdez. "Jocelynn has the stats befitting of an MVP. This includes leading in goals scored and exclusions drawn. Furthermore, her defense was always something that kept the tough games close. She is also a great leader in the pool always pushing her teammates to be the best that they can be." Head coach Kevin Bouk seconds that motion. "Jocelynn led in the number of goals, exclusions drawn and overall made the difference in several of our games. She was a captain for the team because she led by example. She didn't just tell the girls to create movement and drive, rather she did what she wanted them to do." Schleider says while she's been in a swim club in the past, it was her friend in an AP class who pushed her back into the pool at Hemet. "I talked to my friends and they were like, 'Oh you should join water polo!' And I was like 'OK I'll try.' And then first year, I made varsity." Schleider says her favorite moment was this season when she scored the winning goal against West Valley on Jan. 31. She says her teammates started hugging her in the pool in that moment, almost but not quite drowning each other from all the excitement. "It was super funny but it was so cute!" she says. With Schleider as a leader, the Bulldogs flew in the face of an 11-11 season to tie for league champs 5-1 with Beaumont. Schleider's college plans take her to New York, where she plans to start her pre-med studies at Marist College just hours outside the Big Apple. Her goal is to become an orthopedic/trauma surgeon. Both Valdez and Bouk advised Schleider to keep improving herself throughout her life. "Also embrace the swimming side of the game more!" says Valdez. Schleider says she thanks her family for their constant support throughout her time in the pool. She also recommends that anyone who wants to join a water polo team, to do so. "It's an amazing sport and it'll keep you in the greatest shape of your life."
Dawson Powers
Powers, who helped power the Bulldogs to football and soccer glory, was nominated by his varsity soccer coach/history teacher Robert Maloney. "Dawson was the key to a lot of our success; If it wasn't for Dawson's speed, his technical skills and fundamentals of the game, the way he keeps his teammates up… we would've had a lot of struggles this year." With Powers' help as a forward striker, the Bulldogs withstood a trying season to come in third in Mountain Pass League with 6-3-1, and a season run of 17-8-4. Powers says he's been kicking the ball around as long as he can remember, "Since I was like four or five." He says his parents signed him up for an AYSO team and he has never looked back. Powers says despite coming late to soccer on account of his football season running into the soccer season, he still found his first goal of the 2018-19 season to be his favorite moment. He and Maloney both agree his two goals against Lakeside in CIF was also a favorite moment of theirs. According to Powers, he is already committed to Graceland University in Lamoni, IA. There he plans to run track, play soccer, and study business management. Maloney says watching Powers sign his letter of acceptance for Graceland was his favorite moment of Powers' time at Hemet. Maloney advised Powers to be wise in his business dealings: "Always follow [his] goals, keep working like he always has. Dawson's destined for great things. He has the work ethic, the dedication and most of all the discipline." Do you have a student athlete to nominate for our MVP Spotlight? If so, Corey Evan can be reached at (760) 270-5625 or by email at cevan@thevalleychronicle.com.
---