The Valley Chronicle - Titans deal humbling blow to Saintsng
Titans deal humbling blow to Saints
---
Boys volleyball: Tahquitz outlasted Xavier Prep, winning 3-0
[caption id="attachment_17307" align="aligncenter" width="576"]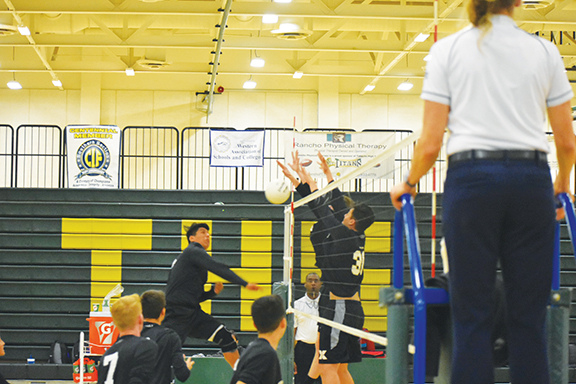 Corey Evan
Xavier Prep tried to squash the Titans on Friday, but to no avail. The Titans won this match 3-0.
[/caption]
■ By Corey Evan / Reporter
Coaching any sports team is a challenge in and of itself. But coaching two teams can definitely keep you on your toes. But Janette Placencia of Tahquitz High School has risen to that challenge and in addition to coaching the girls volleyball team in the fall, coaches the boys in spring. Would her efforts pay off as her Titans faced the Saints from Xavier Prep of Palm Desert on Friday, Mar. 22? From the get-go, it appeared the answer would be yes; the Titans scored the first three points of the first set, before the Saints arose and went forth to challenge them. The Titans would maintain a comfortable distance between themselves and said Saints throughout this first set. With a score of 25-15 in set one, the Titans were already on their way. The Saints started the second set with a slight edge over the Titans, who hung in there. The two teams were level pecking for the first part of this set. That was, until halfway to 25 when the Titans pulled ahead. Try as the Saints might to keep up, they couldn't. With a tally of 25-16, the Titans were up 2-nil. Set three started out about as close as set two did, but the Titans would slowly and steadily grow their lead over the Saints. Toward the end, the Saints tried hard to put pressure on the Titans. Such effort would go unjustified, as the Titans took the match, scoring 25-18. Placencia says progress hasn't been easy for her boys: "We've been working really hard to get to where we are. They did decent. We're working on a few things here and there, so we have a lot of errors going on. But they did good." What exactly they were working on, Placencia is mum on the subject. But she was impressed with Xavier Prep, too: "I have never seen them before, and they surprised me! I thought it was going to be more like a rough go for us… I mean, they're a pretty good team. You can tell they're building [their] program." The Titans have much to be proud of, as they are 2-0 in Mountain Pass League, 13-4 season to date. Xavier leave here 0-2 and 5-8, as they continue to build their program which has run since 2009. Elsewhere in boy's volleyball: • The San Jacinto Tigers lost to the West Valley Mustangs in the Mustang gym last Friday, 3-1. The Tigers are 1-1 and 7-4 for now, the Mustangs now 2-1 and 14-7-1. • Hemet is on a six-game winning streak, which includes their Monday, Mar. 25, 3-0 win against Riverside's La Sierra. The Bulldogs are now 2-0 and 15-5.
---