The Valley Chronicle - Lady Titans withstand Hawks
Lady Titans withstand Hawks
---
Softball: Tahquitz outran Citrus Hill, 15-3
[caption id="attachment_17676" align="aligncenter" width="576"]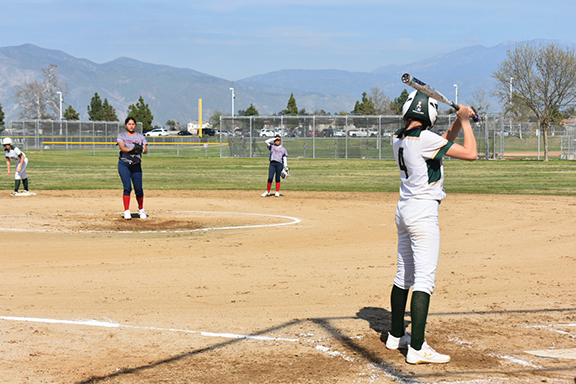 Corey Evan
Breah Olmos steps up to bat against Citrus Hill. The Titans would overcome a field handicap to win 15-3.
[/caption]
■ By Corey Evan / Reporter
For those who may have missed it, February's rains turned the athletic fields at Tahquitz High School into a "Lake Tahquitz." But even as their drainage system has caught up and drained the "lake," even last week the rain continued to wreak havoc on said fields. Luckily, the Titans' softball team were able to host the Citrus Hill Hawks on Friday, Mar. 22, at the Junior Varsity field. The first inning was relatively quiet. But in the second inning, the Lady Titans came alive and dominated the diamond: Leslie Santoyo scored two runs this inning, with teammates Brianna Waters, Zarriah Kindred, Breah Olmos, Melissa Mathias, Alexis Ayala and Madeline Shepard each bringing in a run of their own. The Hawks' L. Carrillo and J. Gallardo (full names not available as of press time) would put Citrus on the board at the top of the third, followed by Mathias at the bottom. Fourth inning saw J. Trinidad land the Hawks' third run of the day, before Mathias, Ayala, Santoyo, Waters, Kindred and Olmos worked to suppress any hopes of a Hawk win. With 15-3, it was a great day to be a Titan. Coach Tom O'Donnell didn't hold back with praise for his Titans: "The girls did a fantastic job today. Our pitcher, Maddy Shepard, performed well on the mound. Coach Newman has been developing her since last October and she is getting stronger. We played great defense and our outfield made some fantastic plays, especially Leslie Santoyo and Brianna Waters. I don't know if you noticed our first baseman doing the splits and digging balls out of the dirt." O'Donnell continued by saying, "Good job Breah Olmos! We have a couple of plays on offensive that we have wanted to try and finally had a chance to pull them off successfully." The Titan coach also noted the Hawks had a few handicaps themselves: "Citrus Hill is like us. They lost a couple of key players from last years team and are trying hard to fill those positions and improve. They were great sports agreeing to play the game on our J.V. field and play under those conditions." But most importantly, he and his Titans can hardly wait to use their field now that the sun's come out: "Wow, just to get more than two days in a row on our field will feel amazing. We missed out on eight games because of the weather and lost the use of our field for three weeks from the field flooding and a possible presence of bacteria that could harm the players," said O'Donnell adding, "[Hemet Unified] shut down our fields. We can't wait to actually play a game this season on our varsity field, everything has been away games or we had to use the JV field. We have banners of our senior players that none of the parents have seen yet and they have been up for at least a month. We will get the chance to play on our field this weekend when we host our tournament 'The Lady Titian Classic'." This is the Titans' first win this season, putting them at 1-1 in Mountain Pass League play, 1-5 so far this season. The Hawks are now 0-2 and 4-10 themselves as of press time. Elsewhere in softball: The Hemet Lady Bulldogs hosted the Beaumont Cougars, losing 3-2. The Bulldogs are now 1-1 and 6-10 this season as of press time. No score was reported for a previous Friday game between San Jacinto and West Valley.
---