The Valley Chronicle - Mustangs overtaken by Tigersng
Mustangs overtaken by Tigers
---
Baseball: West Valley lost to San Jacinto on Friday, 2-1
[caption id="attachment_17673" align="aligncenter" width="576"]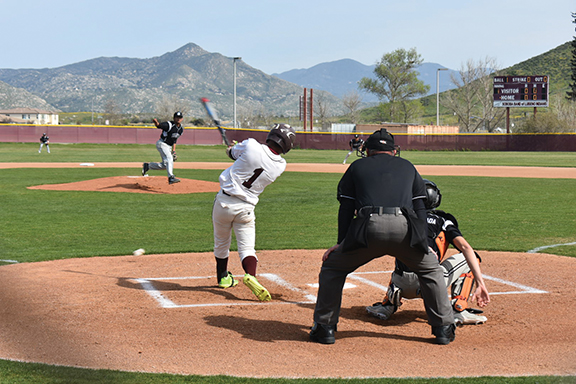 Corey Evan
Kyle Alcantar bats for West Valley, with Tiger Fabian Correa on the mound.
[/caption]
■ By Corey Evan / Reporter
The phrase "quit while you're ahead" may work for gambling, but not for sports. Unfortunately for West Valley High School's baseball team, they would learn this the hard way on Friday, Mar. 29. Their opponents: the San Jacinto Tigers. Fabian Correa would man the pitcher's mound for the Tigers for the duration of the game, as would Isaac Sandoval for the Mustangs. West Valley had a promising start at the bottom of the first inning, as Mustang Tyler Simmons doubled on a 2-1 count to score a run for the maroon and gray. The game would remain uneventful afterwards, until the top of the sixth. Then, Tiger Ruben Flores hit a single to tie up the match. At the top of the seventh and final inning, Alejandro Ruvalcaba put the bat to the ball and score the deciding run for the orange and the black. Sandoval would allow six hits, while striking out six. Correa would allow five hits, while striking out eight. Mustang Coach Juan Sandoval describes this turn of events as missed opportunities: "A couple of late mistakes, miscommunications, and we let them stay in it. We had chances early to get a few runs and we weren't able to get 'em across the plate. So we nursed a one-run lead all the way through, [Sandoval] was pitching really well all the way through… One mistake pitch and it caused a hit and the runs came in." That said, after the game is said and done, Sandoval says his friendship with San Jacinto coach Rick Zepek remains strong. "Oh we're great! Zepek's great, this is my second year doing this… He's a familiar face, he's a friendly face. We talk strategy, we talk baseball, he's a good coach." This loss drops the Mustangs to an overall record of 5-8 this season, 1-7 in Mountain Pass League Play with a current streak of five losses. The Tigers improve to 11-5 and 6-3, and are on a six-game win streak as of press time.
Elsewhere in baseball:
Tahquitz completed their Titan Spring Classic event at home on Saturday, losing to Murrieta Mesa 9-4. The Titans are now 10-5-1 overall and 7-1-1 in league, currently holding first place in league. The Hemet Bulldogs narrowly beat Beaumont on Friday 3-2, leaving red paw prints on blue-and-white territory. The Bulldogs are now 8-7-1 and 5-3-1.
---