The Valley Chronicle - Zero Tolerance Operation
Zero Tolerance Operation
---
Zero Tolerance Operation
On January 19, 2021, about 7:00 AM, the Lake Elsinore Sheriff Station's Special Enforcement Team conducted a zero tolerance/quality of life operation in the cities of Lake Elsinore and Wildomar. The team concentrated on areas frequently described as "problem areas," throughout the cities of Lake Elsinore and Wildomar.
In a collaborative effort with the city's code enforcement, numerous subjects were contacted and arrested for various crimes related to quality of life. The Lake Elsinore Station continuously strives to ensure the citizens of Lake Elsinore live/function comfortably and are able to enjoy the activities of daily living unimpeded.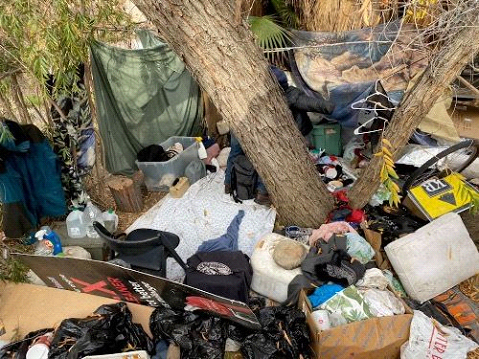 A total of 25 individuals were contacted, fifteen individuals were arrested for crimes related to quality of life and four individuals agreed to receive assistance. All fifteen individuals have had, and will continue to have, access to resources which will assist them in ending their endless cycle of homelessness.
As a reminder, "Community Policing" involves partnerships between law enforcement and community members. Business owners and residents are encouraged to report criminal activity directly to law enforcement by calling Sheriff's Dispatch at (951) 776-1099, or by calling 911 if the matter is an emergency.
---